Fiverr's mission is to change how the world works together. Fiverr connects businesses with freelancers offering digital services in 250+ categories. Fiverr is the world's largest marketplace for digital services. Fiverr enables you to browse the selection of freelancers offering services, and to place orders in just one click. A service offered on Fiverr is called a Gig.
For those of you who are old fiverr sellers, fiverr Gig Promotion is a great option to increase sales. I have shown in the video how to promote gig, how to fixed bidding rate, how much budget to pay daily.
Whoever has the option of Fiverr Gig Promotion – Promote the best seller fiverr Gig. You will able to do this with the balance of fiverr account. Hope you will enjoy Fiverr Gig promotion option.
How to promote gig on fiverr
High-quality Gigs, engaging descriptions, extra services, and top reviews have more chances of converting your visitors into actual orders.
Win your ad spot
Set the maximum amount you're willing to pay per click on your ad. The higher you go, the better your chances to win your ad spot.
Pay only for clicks
Our auction system will calculate the minimum amount per click you need to pay to win over other ads. You'll never pay more than the maximum.
No credit card required
You'll be charged every month directly out of your Fiverr earnings for your ad activity—no upfront payments.
Control your activity
View, track, and manage your ads in one dashboard. You can start and stop promoting your Gig, or change your ad settings at any time.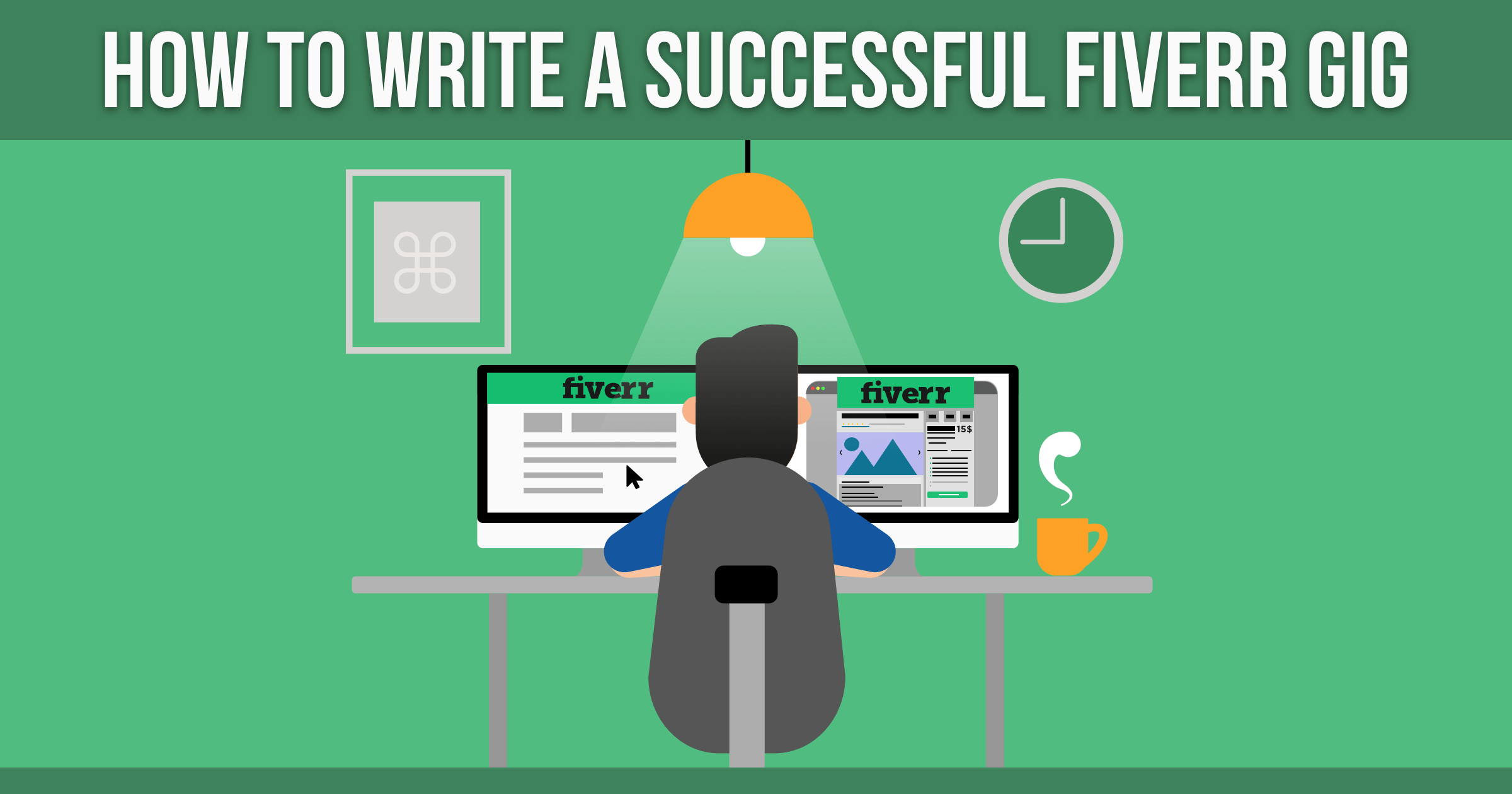 How to communicate with fiverr buyers
Communication is the ultimate cheat code for Fiverr success — better communication means better buyer satisfaction, better ratings, better revenue. Keep the following in mind when you're working with your buyers:

Be proactive
Answer questions quickly! Buyers usually contact more than one seller for information. The faster you reply, the more likely you are to convert that inquiry into a sale.
End each message with a question or other reason for your buyer to respond. Your messages should never leave a buyer wondering where they stand. End every message with a call to action. "Should I send you a custom offer?" "How does that sound?" "What do you think about XYZ?"

Notes:
Receiving spam messages? Use the Report button at the bottom of the message, so it doesn't affect your response rate.
Fiverr Pro sellers can call buyers to discuss order details (via Skype, Hangouts, etc.). Just make sure to document your discussion within Fiverr.
Be transparent in your messages
Spell everything out. On digital platforms, there's a big temptation to be casual in your communication, as if you were texting a friend. Don't do it. Write in clear, full sentences using proper grammar and punctuation.

When quoting a buyer, there is no such thing as giving too much information. Lay everything out on the table. What is the buyer getting when they purchase your Gig? What can they expect from your timeline? How do you break down your pricing?
Break down your offer, tell them what the workflow will be, ask them if they want a custom offer, etc.
Use unifying words
Use unifying words (ex: with, us, or together) to let the buyer know that you consider their project to be a partnership.
Set expectations and follow through
Set expectations with your buyers by providing estimated dates for reaching out to them again or sending work deliveries. Meet or beat all your obligations.
Follow up with your buyers
Follow up with potential buyers even if they haven't replied to your last message.
You'll find that emails that end with a specific follow-up question receive a better response.
Don't forget to follow up with past buyers after order completion.
Download the Fiverr mobile app
Downloading the Fiverr Android or iOS app will help you keep up with orders & buyer requests on the go. Being able to see and respond to requests anytime is a great way to grow your business faster while keeping your flexible lifestyle.
Be responsive to increase conversions.
Fiverr ID Verification: See Complete Live Video
Fiverr ID Verification: Complete Process
FROM FIVERR PROFILE > CLICK "VERIFY ID"
THEN ON MOBILE, YOU WILL GET A LINK TO VERIFY, Or YOU MAY USE QR SCAN OPTION
OPEN THE LINK WITH YOUR MOBILE BROWSER (Chrome/Brave)
IT WILL ASK YOU TO TAKE A PHOTO OF YOUR NID (take an immediate snap of NID's clear view with no light reflection)
IT WILL ASK YOU TO TAKE YOUR PHOTO (take an immediate selfie of your headshot)
CLICK VERIFY
IN FEW MINUTES YOU WILL GET RESULT ON YOUR MAIL (VERIFY ACCEPTED OR NOT)
What are the docs that fiverr accept for fiverr id verification?
Need smart nid card or
passport or
driving license
What are the docs that fiverr don't accept for fiverr id verification
How Fiverr ID Verification works
When we request you to verify your ID, you will need to feature a photograph of a politician government ID (driver's license, passport, etc.) from an inventory of documents which will be available to you, counting on your country of residence.
After uploading your ID, you will be asked to require a selfie of yourself. Your selfie and ID must match and must belong to you to finish the method .
The ID verification process must be completed on a mobile device. If you begin on your desktop, you will be redirected to continue on a mobile device, where you will have the choice to scan a QR code or receive an email if you do not have a QR scanner. the e-mail will include a link where you'll upload your ID. We ask that you simply don't take photos of scanned images of yourself or your ID, as we cannot verify those photos.
Note: Completing this process is important to continue offering your services on Fiverr.
FAQs For Fiverr ID Verification
Will my information be shared with the community or made public?
The information you provide is to verify your identification with Fiverr. Your information will never be made public.
When do i want to verify my ID?
You will got to verify your ID once you receive a notification on your account, asking you to perform the method . you'll be asked to finish the method within the subsequent 14 days. The link to verify your ID are going to be highlighted on a banner on your account – always available.We ask users for his or her ID to assist us confirm you're really you. Please note that using misleading and faux profile information is strictly forbidden on Fiverr.
Will Fiverr ask to verify my ID via email?
No, Fiverr will never invite ID verification via email. you'll only complete the ID verification process through the method described above.
We take care in maintaining the safety of the location and your information and in preventing unauthorized access, loss, misuse, alteration, destruction, or damage thereto through industry standard technologies and internal procedures. Once we've received your data, we'll use strict procedures and security measures to undertake to stop unauthorized access. For more information, read our Privacy Policy.
What if i do not have an ID?
You must verify your identity with a legitimate ID. This includes a driver's licence , passport, or other valid ID included within the list found once you start the ID verification process. The ID's available varies per country.
Do I even have to verify my identity?
Verification is mandatory if you receive a notification. Customer Support isn't ready to start this process for you, nor are they ready to verify your ID for you, if sent on a ticket request.
how to reply a client on fiverr to get fast order
Most of us usually try to reply our client with some templates for common messages. This is the common mistake we do always.
Fiverr clients are different from other Marketplace, because they come to solve for their small issues or fix specific issues so we all need to focus on clients requirement, and based on their requirement we need to reply our clients.
Usually small reply with one by one of his questions or issues bring good result always.
You can show some of your previous clients live site sample as your portfolio.
And you can focus Yourself by specifying clients about your unique qualifications
How To Delivering your Fiverr Order
Delivering your Fiverr Order
A clear and well-communicated process from start to finish will have buyers eager to work with you again and again. Use these tips when delivering your Pro order to earn great reviews — and repeat business!
Overview of the delivery process
Once you've completed an order, you'll need to deliver your work to the buyer. The buyer then reviews your work and marks it as complete (or asks for a revision). If the buyer takes no action, the order will automatically be marked as complete three days after the due date.
Note: Delivering an order is the final part of a service offered to the buyer. Work samples or drafts should not be sent as a delivery.
Buyers purchase your Gig pay Fiverr in advance. When your order is successfully delivered and completed, you will receive 80% of the total order value. For example, if you price your service at $1,000, you will receive $800 for a completed order. For Fiverr Pro sellers, payment will have a 7-day clearing process.
To deliver an order:
1.Once logged in, from the Selling menu, click Dashboard.
2.Within the To-Do's section, find an active order and click Deliver Now.
Note: You can access your orders in several ways, such as within emails, notifications, or by going to your Orders menu.
3.Within the Order page, you can click Deliver your order at the top, or scroll down to the bottom and click Deliver now.
4.To attach your delivery, click Upload Work.
Note: The single file limit is up to 1 GB. If you are not delivering a file, then you will be prompted to confirm that no file is attached. If your files exceed these limits, you can provide links to a third-party file-sharing service instead.
5.In the Describe your delivery in the details field, write a brief description of your delivery.
6.Select the image/file you want to be displayed in your Gig's Live Portfolio.
Notes:
The work sample will appear on your Gig's Live Portfolio once your Buyer approves it.
The work sample cannot be changed once the delivery has been sent.
7.Click Deliver work.
fiverr, how to make money on fiverr, make money online, fiverr tutorial, what is fiverr, make money on fiverr, how to make money on fiverr fast, how to earn money on fiverr, fiverr gig, how to make money on fiverr for beginners, freelancing, how to make money online on fiverr, How Fiverr Works, how to make money from fiverr,mehak alamgir, articlebase.pk, Fiverr, How to, How to earn from fiverr in urdu, Online Earning from Pakistan, How to earn money online in Pakistan, Fiverr tips in urdu, Fiverr earning in urdu, Fiverr earning in Pakistan, best online earning techniques, Best seller fiverr, Fiverr tips to earn, Gig, Fiverr Gig Tutorial, Fiverr Earning Tutorial in Urdu, Fiverr Guide in Urdu, Fiverr Gig in Urdu, Fiverr Tips in Pakistan, Best Fiverr Tips in Urdu